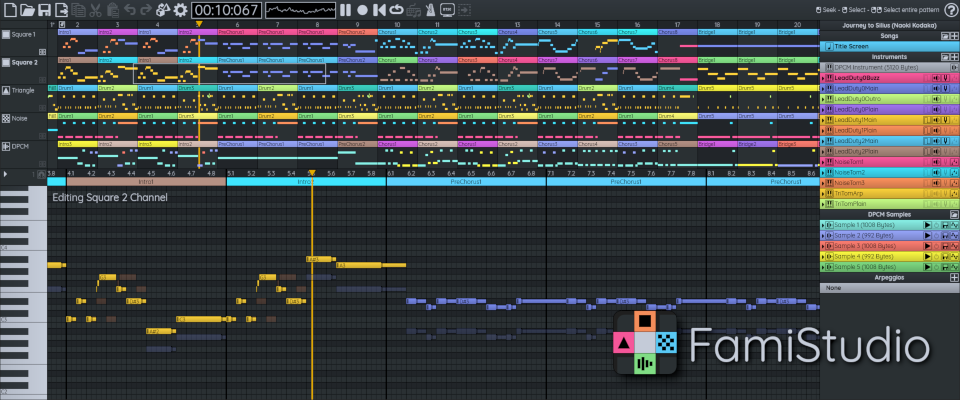 FamiStudio
A downloadable tool for Windows, macOS, Linux, and Android
FamiStudio - NES Music Editor
FamiStudio is a very simple, DAW-style, music editor for the Nintendo Entertainment System. It is designed for both chiptune enthusiasts and the NES homebrew community.

Features:
Modern DAW-style UI with piano roll, no hexadecimal anywhere
Instrument & Envelope edition
DPCM Sample Editor
NSF import
Full Undo/Redo support
Copy & Paste support
Note drag & drop with audio preview
Import from FamiTracker FTM & Text (official 0.4.6)
Export to various formats (WAV, ROM, NSF, FamiTone2, FamiStudio Text, FamiTracker Text)
Volume, fine pitch, vibrato effect tracks
Slide notes (portamento)
Arpeggios
NES sound engine (CA65, NESASM, ASM6)
MIDI input support
MIDI import/export
Audio expansions supported: VRC6, VRC7, FDS, MMC5, Namco 163 & Sunsoft S5B.
Windows, MacOS, Linux and Android versions (on the Google Play Store).
Tutorial for Desktop
Here is a 20 min tutorial that will teach you how to make a song from scratch
Tutorial for FamiStudio mobile
If you are using the mobile version of FamiStudio, please check out this tutorial to get you started!
For updates, source code and documentation, please visit www.famistudio.org.
Install instructions
Windows
Simply download and run the installer (.msi). If you get a security warning simple click "More Info..." and discard the warning. A shortcut to FamiStudio and the included demo songs will be added to your Start Menu. You will need install the VS2015 runtime (x86) which you can download here.
MacOS
Download and uncompress the file anywhere and the launch FamiStudio app. The demo songs and included in the zip. The app is unsigned and might require you to ignore a few warning and you may need to grant it a few permissions if you are running Catalina.
Linux
A FlatHub build is also available for a simpler installation.

If installing from the ZIP file, please check out the documentation for the Linux installation procedure.

Also available on