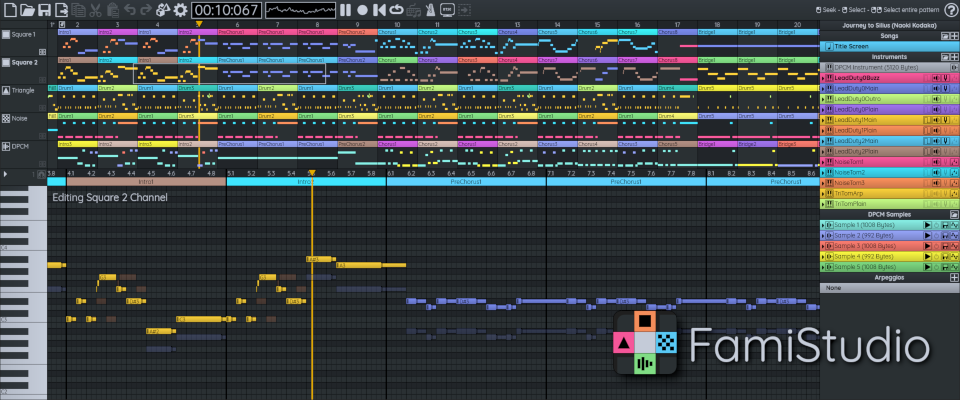 FamiStudio
FamiStudio 2.4.0 was just released.

Changes :
Basic DPCM sample editor
Darker theme and more color choices
Ability to use QWERTY keyboard input without using recording mode
Slightly reduced audio latency and configurable number of buffered frames
Right-clicking anywhere in the background also starts a selection
Seek bar can be dragged and respects snapping precision
Pattern duplication preserves names when possible
Instrument picker tool (hold "I" + click on a note)
Paste special in Sequencer
Pattern are created automatically when adding notes.
Quickly repeat last export by right clicking button or CTRL+SHIFT+E
Edit multiple custom patterns at once
Video export resolution/framerate options (Contributed by Thomas McGrew)
Multiple VRC7 fixes
Multiple FamiTracker fixes
Multiple sound engine improvements & fixes

Blaarg smooth vibrato support for SFX
Unlimited SFX size (Contributed by Brad Smith)
Linker support in CA65 (Based on idea by Brad Smith)
Breaking/behavior changes:
Songs will always be sorted alphabetically. This include songs loaded from any file format. This was always the intention but was poorly enforced in previous versions.
There was a bug in 2.3.x where instrument with volume envelope consisting exclusively of zeroes would play at full volume. This is no longer the case and the instruments will be silent.
Files
FamiStudio240-WinInstaller.zip
3 MB
Mar 08, 2021
FamiStudio240-MacOS.zip
3 MB
Mar 08, 2021
FamiStudio240-LinuxAMD64.zip
5 MB
Mar 08, 2021