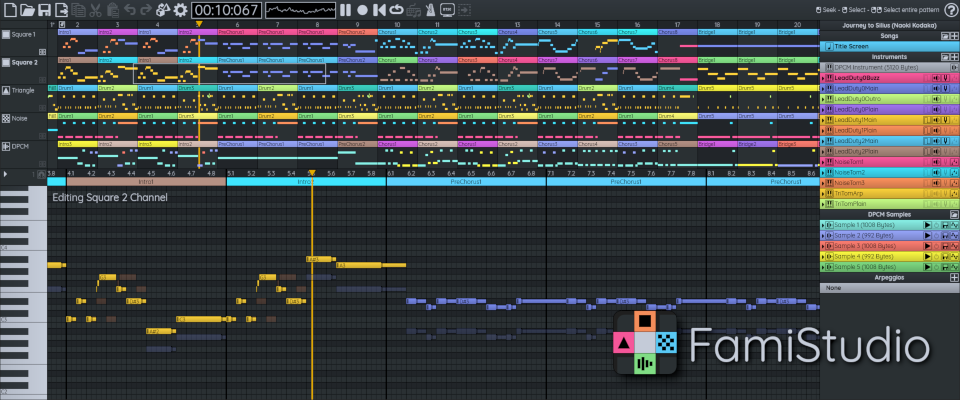 FamiStudio
FamiStudio 4.0.0 was just released!
Changes:

Revamped desktop version :




Redesigned controls, more similar to mobile version : Context menus, Gizmos, etc.
Based on GLFW using custom drawn widgets, consistent across Win/MacOS/Linux
Getting rid of all dependencies to OpenTK, WinForms, GTK# and System.Drawing in preparation to eventual migration to modern .NET.
Animated GIFs for intro tutorial

More control over sequencer height and ability to hide unused channels on desktop
Support to multiple audio expansions with EPSM
Support for multiple waveforms for N163
Support for single audio expansions for ROM export
Wave resampling for N163/FDS waveforms, import WAV files and adjust period & offset.
Basic NSFe export support, only track names and durations for now.
Improved oscilloscope stability:

Use of emulation-generated triggers when rendering oscilloscope in exported video or in toolbar when previewing instruments.
Improved trigger detection for toolbar oscilloscope when playing a song (using "peak speed trigger" algorithm).

Audio delay effect when exporting video or audio.
Snapping improvements, most notably:

**Alt+1**, **Alt+2**, **Alt+3** and **Alt+4** quickly changes between common snapping values
Hold **Alt** anytime when resizing or moving notes to temporarily disable snapping
Context menu to set snapping to a specific note duration
Option to snap effect values
Files
FamiStudio400-WinInstaller.zip
7 MB
Aug 24, 2022
FamiStudio400-MacOS.zip
6 MB
Aug 24, 2022
FamiStudio400-LinuxAMD64.zip
8 MB
Aug 24, 2022
Comments
Log in with itch.io to leave a comment.
whoa this is amazing :) great work!
BleuBleu, or "the Unstoppable".
Seriously, man. Great job!